origami republika > archive > surf all
folder: 2.0 MEMBERS
subfolder: 2.3 WORKLOGS > surf worklogs
---
2.3 origami boe > worklog > next boe
---
work 010 : acoustic laptops - workshop documentation
wood boxes with tiny sound objects attached inside
presentation - make your own - orkestra - workshops
photos in the art collection - download zipped documentation
2012 > The various documentation of the acoustic laptops has been collected HERE
010A oslo 2008 - Exhibition & workshop @ Sound Of Mu, March 2008 >
see individual laptops in the art collection > download zipped documentation > videos on origami republika village tv



From the video documentary by Tom Hovinbøle A186 (origami cinematika) / the exhibition
from the "010A catalogue" >

A] four + one acoustic laptops set up in the gallery space | they will remain plugged during the exhibition hours | so the café visitors can pluck and play (and during evening concerts with other projects?)
B] from sound source to musical instrument | "there are no secrets" video documentary by tom A186 (origami cinematika) | live concert solo duo trio quartet + freestyle (boe A22 with tom A186, jonas A196 and torstein wjiik A268)
C] people with & without musical interests will be invited | to create their own unique acoustic laptop | and start touching the sounds | drawing pictures in free air
D] descreet catalogue and audio document available as souvenir
---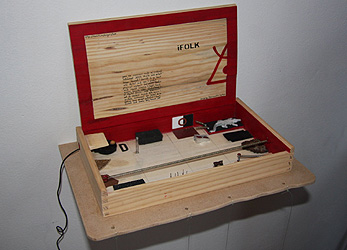 iFOLK 2008 - from sound object...
is it the new iMAC, the new iBOOK, the new iKEA? - no, it´s the new iFOLK - der volkscomputer, draped in an air of (hardanger) apples, massproduced in handwriting (motivate), librium for minimalists and iPORN for maximalists, (folkelig trehvite), rough, schematic as a toy keyboard, many objects from nature, some directly related, not so many "spretne" wheels, motors or urbanities, no circuit-bending, no escapist reverberation, a fine red thread bass-line, other side of prism, la pizza más grandiosa del mundo, jet easy escape, fjords and mountains and endless blue pastures of the www, some sad sloppy sounds, space for pencil tagging, for finely honed amateur articulation, hint at sushi, singing crocodile sprinkled by sahara sand securing contrast, promoting plush zoorealism, to be exhibited and played by visitors in norway alongside...
...to instrument: la esperanza 2008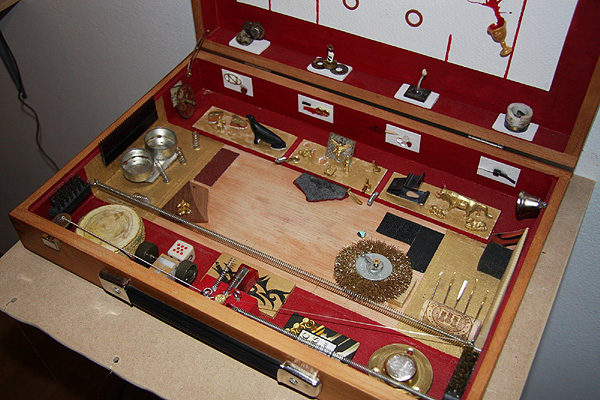 ... with sijils and personal designs; red wine bull with offspring, zebra hoof & sea lion feeding, music lover book, AIA exhibition, centered by angel & nativity scene, drum & critical dice landing at 8, daughter´s tooth & fertility idol, next word patented is iCANDY?
---
A] first aspect; no password necessary (pass the word; there are no secrets)
the acoustic laptops IS | a simple wood box with numerous tiny sound objects attached inside | made to amuse and enthuse | fun | or to reveal musical mysteries | amplified by cheap microphones | boosting the volume | connecting to the marrow of sound and otherness of being | a cool gadget for social training | a focus for intimate unwinding | a tool for emotional response with no plastic keys between fingertips and the sound | no other keys necessary | no screen between you and the object of choice | no other screen needed to communicate as it works best offline | objectively; what you touch is what you hear | subjectively; how you listen is up to you...
B] second aspect; unlimited RAM installed (down memory lane; drawing crazy patterns in the air)
trivial sounds are public domain | wanted or not | the sound of a needle falling is an illusion | then it lands | return to zeros and ones of reality | it be fingers fickling something | unconscious and unneccessary ritual | momentary lapse into the exploration of sound properties (not always nervous tapping) | nanodips into otherworlds | or reality glitches from surroundings | plastic wrapping during music performance | pencil on paper | underwater in bathtub | pouring soda over icecube in glass | newspaper page turning | milk on cereals | emptying ketchup bottle | raincoat hood in stereo | blink-blink after turning on neon lights | fade-out after shutting off tv | bee buzzing around in frantic surround | magic realism in wheening window washing...
C] third aspect; set language platform: [open] (challenge; a less annoying communicative tool)
we don¥t need to invent a new language | or erase esperantic attempts | aware of both wheel and microchip | history is what WAS | prima materia for all that IS | there are no claims to originality or trademarks | even some media-people now know that all these sounds have been used as artistic material | kenyan witchcraft music based on flicking one string repeatedly (minimalism) | cape verdian tin-can percussion | stomp | angstmusik | earcandy composition | far-out rock intros | we are in this together | the analog landscape that unfolds along the digital highway | add to the specter of dialects, sociolects and slangs | develope your own box | or play with someone who has one | don¥t worry; perfection leaves nothing to be desired | abstract poetic expression IS basic human urge | music is not that important | art as neutral descriptive verb...
D] fourth aspect; unformatted, system requirements
the art of motivation | participation | potential | meeting fluxus-criteria numero uno; "art should be for anyone..." | the closest you will get becoming a tormented artists is a tiny cut in your fingertip | sound objects/instruments? electric/digital? acoustic/analog? the degree of aesthetic design necessary for them to be artified? a pun on the current musthaves? iconography of contemporary consumer culture? | no hurry; all can be discussed over a glass of wine after the first-hand experience of playing them | but fact remains; the acoustic laptops are easily made and played by anyone anywhere knowing to have a good time reconnecting with something tangible
---
A] mi/story; how come?
simultaneously; in real-time boxes born out of necessity to simplify live performance practicalities | never able to reconstruct temporary tabletop sound set-ups | needed a focal point after 12 origami years in flux | needed an instrument for further challenge | new possibility; rehearsing | even more emphasis on miniatures and microsounds | to get to the core | "what's hiding under the music is sound" | it felt right | i had to go simple | without making it too simple | to slowly crawl back into music | from now on including any kind of instrument or object again | voice | cutting-edge contemporary | nostalgic collage | extreme noise | normal music even | regardless if only suitable for my worklog | to me soundmaking is an almost visual activity | i'll as easily define my visual and conceptual art as music | all parts equal part of the poem (transmedia desire)...
B] The .MO# project (2002-2004)
on the road again; and through the dunes trondheim 1999 | "Tore Honoré Bøe" as artist name | set out on the LIVE [to perform] Tour (wordman - better than birdman) | dedicated the last parts of it to exploring the acoustic laptops | settling in on a new island | opening night on the new mainland | suddenly inviting - not arrogant - to play with back to audience | good people beside and behind me | peeking over shoulders | funny laptop jokes; "can i check my e-mail" | rehearsing in public | patience only topped by enthusiasm | sometimes fingers projected onto videoscreen | too much for some purists | seconds later headfirst into boxes | yet requested by more | started mixing in previous concert recordings | a cough in the room or a cough on disc promptly answered by a pling or a screech from the boxes | playback later to be left out as my fingers took over...
C] baunoten; ein bestandteil sein (2004, revisited 2008)
six supporter acts for einstürzende neubauten | then another two added later | artist name complicated the urge to promote general origamism | full return to origami republika necessary | once again given the opportunity to sneak into another world | welcomed with "you are the guy with the sahara sandstorm recording, right?" | billed only as "boe" the question was popped quickly; "like in bo diddley?" | and why not? as we say in origamese | old rockabilly drummer as i am | i had re-recorded their rehearsal webcasts subscribed to via neubauten.org | remixed that into drones and waves | then i added micro-neubautenesque acoustic laptop live ("like seeing neubauten through binoculars the wrong way") | short intros with no records to sell | so be it | backstage often catered for a full band | i understood i only had to add the origami to the boe | so it became worklog 000 | sort of as a new end to an old beginning...
D] vale la pena; well worth what hassle?
all the small moments of wonder; sneaking into the merzbau replica at the sprengler with a box under my jacket to play for schwitters A96 who didn't complain | a warm livingroom with fresh homemade pastry and big beautiful ears | cold big artspaces | rock venues and gallery cafés | watching audience in london, brussels, nijmegen play acoustic laptops for me | golden memories of contrast; not a nobody's fingers doing my soundcheck | listening to my fingernail breaking over the most hi-end PA i've ever played | nice places to visit and a nice place to be | kneeling before a seated audience where placido domingo had sung two weeks earlier | seeing sense | cutting up the cut-up | a red thread to be woven into the origamism | from there to anywhere...
---
Tom Hovinbøle´s text on the dvd >>>
"When my long time friend and a great inspiration asked me to do a video piece for an upcoming exhibition of his acoustic laptops, I of course said yes.
It gave me the opportunity to finally work with Boe, whom I've known for many years and is one of the artists interviewed in my Nor Noise. And it gave me the opportunity to escape the Norwegian winter for a week in January to sunny and warm Gran Canaria; a place I otherwise would never have visited but which turned out to be a very exciting and peculiar experience.
Gran Canaria is one of those places that both confirms and disconfirms your prejudices at the same time. I never understood why Boe– of all people – would move with his wife Elisabeth and then two children to one of the touristified places in the world, but after staying with them for a week I get it.
He lives in sleepy San Fernando, a city of some 12 000 people, with charming corner cafes and small neighborhood restaurants serving great tapas. On the other side of the road – literally! – lives some 150 000 tourists in a world of excess. To experience the contrast alone was worth the trip.
The material for the video piece consisted of footage shot at his home and in the Dunas de Maspalomas, on the south of the island, still images of his laptops and two short concert video pieces.
The challenge was to find a form that would integrate the material in a rewarding way for the public. And I had to find an expression that would serve both she screening at Sound Of Mu – as a video art slash installation video piece – and as a regular documentary for later purposes. Added to that the film had to work both with and without sound. A problem solved with using much text.
The film has no beginning and no end. The DVD is made to play in a loop; the viewer can jump into it anytime, the film goes through several stages and bites itself in the tail."
see individual laptops in the art collection > download zipped documentation > videos on origami republika village tv
---
presentation - make your own - orkestra - workshops
photos in the art collection - download zipped documentation
---