origami republika > archive > surf all
folder: 2.0 MEMBERS
subfolder: 2.2 SUBUNITS > surf subunits
---
origami REPLIKA > next REPLIKA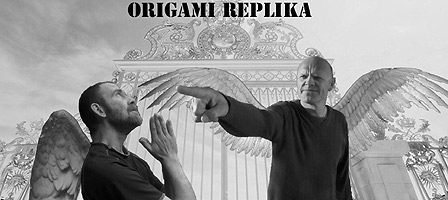 HAPPYNOISE PERFORMANCE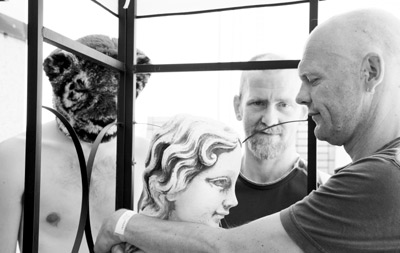 BREAKING NEWS:
A few exclusive concerts will take place in 2014. Contact
January 2014 :
Origami Replika played a concert with The Quiet Club at The Guesthouse, Cork, Ireland on January 25th. In front of a very polite and seated audience this became a weird pastiche entitled "Beckett Gone Bad".
December 2013: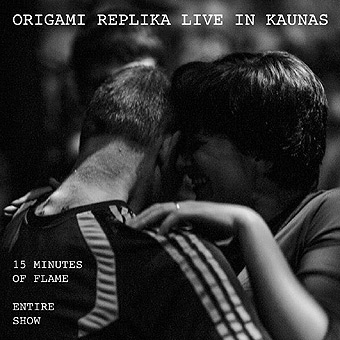 A live 7" entitled "Live In Kaunas - 15 Minutes Of Flame" is mastered, and the recording of the studio album "Choose Life" has started, including tracks "Hard ons & Loved ones" and "Body To Body".
September/October 2013:
Origami Replika played their first concerts in 15 years. The much requested world premiére took place in Vilnius, with following gigs in Kaunas, Tallinn, Helsinki and Playa Del Inglés. This was erroneously picked up by international media and die-hard fans as a reunion, when as a matter-of-fact it has been one long rehearsal. The world hasn't been primed for happynoise before now.
Origami Replika consists of Prof. Kim Xmazz A108, Rev. Kjetil Metallika Hanssen A268 and Dr. 2re Boe A22.
The recent concerts included guests who are now forming part of the Origami Replika backing band: Cristiana Fraticelli A304 (IOIOI), Id M Thfft Able A314, Peter Gotterbarm A315 and Savva Terentyev A316.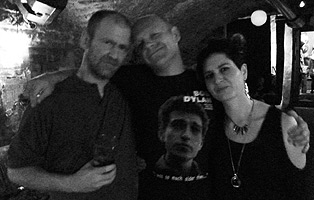 Prof. Xmazz, Dr. Boe & Sra. Fraticelli, Tallinn, Estonia 2013
THE STORY SO FAR:
Origami Replika was started by Boe in 1992, the first release being an unplayable scratched 7" with a 23 minute cassette, and other tapes soon to follow. In -94 Boe presented the Origami Replika short movie "how to blow up anything in ten easy lessons" with live soundtrack by him with members of Red Harvest amnd Dunkelheit. In -95 Kjell Braaten and Boe did a gig, including a live remix of Swans' "Soundtracks for the blind" album before it was released. Boe continued to make a shitload of cassettes, including splits with several international activists on the noise scene.
In -96 Lasse Marhaug appeared for the first time and helped Boe master the best of the cassettes onto a cd entitled "Ka/skader". They continued to do a lot of records, cassettes and broken objects. The most known might be the cds of Merzbow and Kapotte Muziek remixes. The whole thing culminated in two month-long tours in -97 and -98, effectively ending by Marhaug going to see Spice Girls, and Boe went to see Bob Dylan.
Origami Replika was then already taken over and ruined by Per Olav Jørgensen (aka Major Ego) and partly Judge Replika, stealing all their stuff and putting the SchMerzPønkDaDa suffix on everything the REAL replikans did. This issue has never been solved, but generated a lot of confusing media attention, resulted in a cd that was published as a 7", an LP, several cdrs and a tons of cassettes and compilation entries.
Marhaug quit, Boe did one last job with Kai Kobi Mikalsen supporting Merzbow in -98 with a folk flute and cassette cover crushing ritual. The last of the old gigs starred Kim Xmazz who chopped headset cables and smashed a ghetto-blaster with an axe in a Madonna remix he did with Boe on national broadcasting. In addition to singing in his own band Nomad Nipples, Mr. Xmazz did vocal performances with Lasse Marhaug Band and i quit ! in those days, and has later starred with Boe in various cameos, Boe made a lathe cut 7" and a cd as "The Nordic Miracle" with Marhaug.
The Origami Replika name was bought by John Hegre of Jazzkammer in 2000, thus they are not allowed to perform or publish anywhere in Norwaythe continent. Most important; they are back as a trio, with their performance "15 minutes of flame", based on ignorant cut-upping of old material, and new wonderful songs.
(When asked about a web page, Kim Xmazz commented: "Origami Replika can not breathe within the confines of the internet".)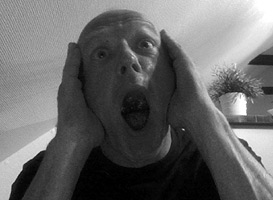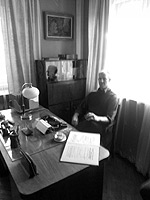 TRACES:
You can see a related interview and some glimpses of live action in the movie "NorNoise", Boe and Xmazz are there from the start.
Full-length free download albums: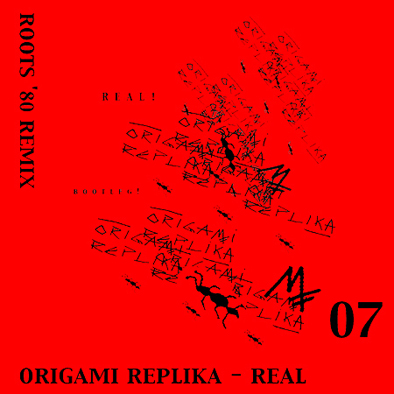 Origami Replika - Roots 80 Remix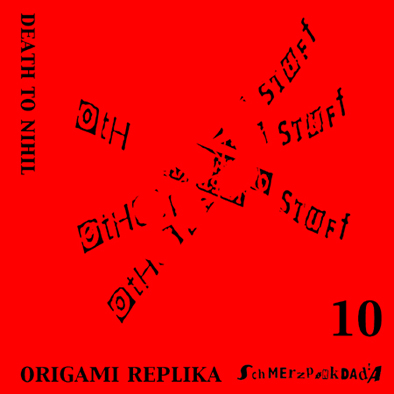 Origami Replika SchMerzPønkDaDa - Death To Nihil
On free download compilations:

Origami Republika - Free 23 Year Album
Origami Republika - Free 10 Year Album
More related noise stuff and free downloads: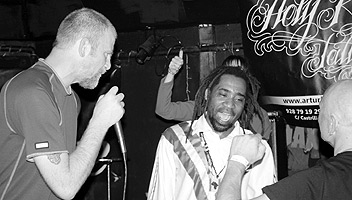 NOISE MEETS REGGAE - with Zydon & DJ Di-C
Adrenaline, Playa Del Inglés, Gran Canaria 2013
YEAH - IT'S JUST GREAT-AH!