origami republika > archive > surf all
folder: 2.0 MEMBERS
subfolder: 2.3 WORKLOGS > surf worklogs
---
2.3 origami boe > worklog > next boe
---
work 012 : kaptcha
freeform noise works / ruido canario / kanaristøy (web albums/cdr)
Fierce and direct tracks performed and recorded in good old head-on noise style (as with origami replika and the nordic miracle). A blend of harsh noise, impromptu blasts, and slaptick/vocal/physical performance. Pure happynoise. The last piece of this quadrology will be performed live in february 2012 @ La Miroiterie, Paris, France. Looking for extreme noise gigs on the continent late May/early June > booking
Boe A22 with additional input by Kim Xmazz A108, Bassus Marcelius, Kai Kobi Mikalsen A80, Lasse Marhaug A73.
kaptcha A cdr - kaptcha B web album - kaptcha C web album - kaptcha D wip
Kaptcha? English > Castellano > Catalá
---
kaptcha A >>>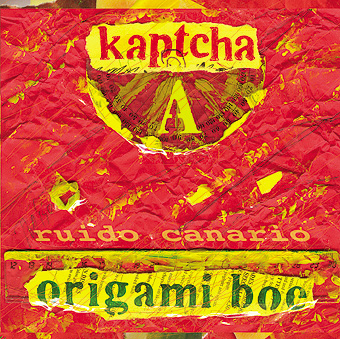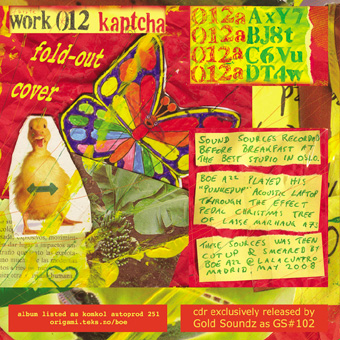 Sound sources recorded before breakfast at The Best Studio in Oslo in March 2008. Boe A22 played his "Punkedup" acoustic laptop through the effect pedal christmas three of Lasse Marhaug A73 (Jazkamer). These sources were then cut-up & smeared by Boe A22 @ lalacuatro, Madrid, Spain, May 2008.
Limited edition cdr in fold-out cover listed as KomKol Autoprod 251, released by Gold Soundz as GS#102, Norway > download
The original source disc & artwork was presented as a birthday gift to Geir Yven A105 of Origami Fanatika.
---
kaptcha B >>>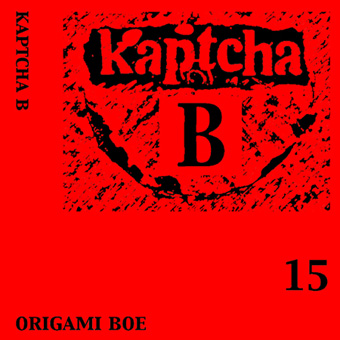 Recorded by Boe A22 on The Blues and The Ace acoustic laptops @ lalacuatro, San Fernando, Islas Canarias, February, 2009.
Cdr/web album listed as TRASS! anarchives (ta15) via Ambolthue, 2009 > download
---
kaptcha C >>>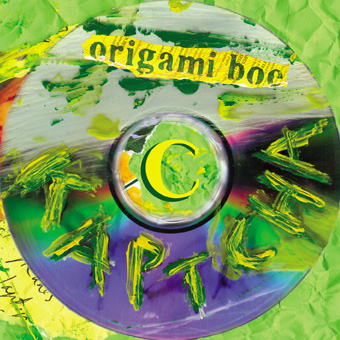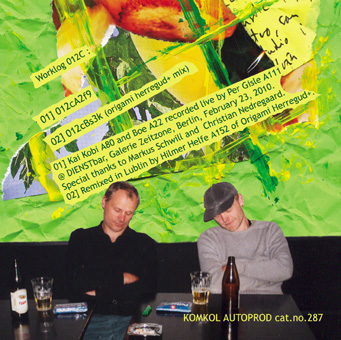 Kobi A80 and Boe A22 recorded live by Per-Gisle A111 @ DIENSTbar, Galerie Zeitzone, Berlin, February 23, 2010. Special thanks to Markus Schwill, Origami Arktika and Christian Nedregaard. Remixed in Lublin by Hilmer Helfe A152 of Origami Herregud+.

Web album listed as KomKol Autoprod 287 > download
---
kaptcha D >>>
Partially performed live by Boe A22, Kim Xmazz A108 and Bassus Marcelius @ Støy På Landet, Fosen, Norway, July 23, 2011. The album was recorded in San Fernando, Gran Canaria, August 2011 with Kim Xmazz A108 on vocals. The last piece will be performed live in Paris, 2012. Then the album will be mixed. Looking for a label again ... see video on top of the page
---
Kaptcha? English > Castellano > Catalá
DESCRIPTION >>>
A] The image with the crazy letters appearing on websites is called KAPTCHA and it's used to figure out if you're a person or a computer. It is a type of challenge-response test used in computing to determine that the response is not generated by a computer.
B] The process involves one computer (a server) asking a user to complete a simple test which the computer is able to generate and grade. Because other computers are unable to solve the KAPTCHA, any user entering a correct solution is presumed to be human.
C] A common type of KAPTCHA requires that the user type the letters of a distorted image, sometimes with the addition of an obscured sequence of letters or digits that appears on the screen.
D] A KAPTCHA is sometimes described as a reverse Turing test, because it is administered by a machine and targeted to a human, in contrast to the standard Turing test that is typically administered by a human and targeted to a machine. It is a contrived acronym for "Kompletely Automated Public Turing test to tell Computers and Humans Apart", trademarked by Carnegie Mellon University, but that has nothing to do with the creation of extreme noise, unless Noise is Spam as Spam is Noise.
---

CASTELLANO >>>
¿Si quieres escuchar ruido canario extremo? - un retorno al trabajo con el ruido de forma libre, feroz y directo. realizado en vivo utilizando buenos aparatos OTT viejos (como en origami replika o the nordic miracle).
DESCRIPCIÓN >>>
A] La imagen con las letras locas que aparece en las webs se llama KAPTCHA y se utiliza para averiguar si eres una persona o un ordenador. Se trata de un tipo de prueba desafío-respuesta utilizado en informática para determinar que la respuesta no está generada por un ordenador.
B] El proceso incluye una computadora (servidor) que pide a un usuario que complete una simple prueba que el ordenador es capaz de generar y evaluar. Debido a que los demás ordenadores no están capacitados para resolver el KAPTCHA, cualquier usuario con una solución correcta será identificado como humano.
C] Un tipo común de KAPTCHA requiere que el usuario escriba las letras de una imagen distorsionada, a veces con la adición de una secuencia de letras o dígitos oscurecidos que aparecen en la pantalla.
D] KAPTCHA se describe a veces como una prueba de Turing inversa, porque está administrado por una máquina teniendo como objetivo a un humano, en contraste con la típica prueba de Turing que suele estar administrada por un humano y destinada a una máquina. Se trata de un forzado acrónimo de "Kompletely Automated Public Turing test to tell Computers and Humans Apart", marca registrada por la Universidad de Carneige Mellon, pero esto no tiene nada que hacer frente a la creación de ruido extremo, a no ser que el Ruido sea Spam como el Spam es Ruido.
---
CATALÁ >>>
Si vols escoltar soroll canari extrem? - un retorn al treball amb el soroll de forma lliure, ferotge i directe. Realitzat en viu utilitzant bons aparells OTT vells (com a origami replika o the nordic miracle).

DESCRIPCIÓ

A] La imatge amb lletres boiges que apareix a les webs es diu KAPTCHA i s'utiliza per esbrinar si ets una persona o bé un ordinador. Es tracta d'un tipus de prova desafiament-resposta utilitzat a l'informàtica per determinar que la resposta no està generada per un ordinador.
B] El procès inclou un computador (servidor) que demana a un usuari que completi una simple prova que l'ordinador és capaç de generar i evaluar. Degut a que els altres ordinadors no estan capacitats per resoldre el KAPTCHA, qualsevol usuari amb una solució correcta serà identificat com a humà.
C] Un tipus comú de KAPTCHA requereix que l'usuari escrigui les lletres d'una imatge distorsionada, a vegades amb l'afegit d'una secuència de lletres o dígits enfosquits que apareixen a la pantalla.
D] KAPTCHA es descriu a vegades com una prova de Turing inversa, perquè està administrat per una màquina tenint com a objectiu a un humà, en contrast amb la típica prova de Turing que acostuma a ser administrada per un humà i destinada a una màquina. Es tracta d'un forçat acrònim de "Kompletely Automated Public Turing test to tell Computers and Humans Apart", marca registrada per l'Universitat de Carneige Mellon, però això no té res a fer davant de la creació de soroll extrem, a no ser que el Soroll sigui Spam així com el Spam és Soroll.
---