origami republika > archive > surf all
folder: 3.0 PRODUCE > next folder
subfolder: 3.3 LABELS > surf labels
---


A totally non-profit operation run by frank robert a124 of or_/herregud+ fame who brought you the best lowest in music from 1997-2002. Then a long pause entered, only for the sublabel´s "white labels" to be revitalised in 2012 for the 15 year anniversary. Free music in times of crisis...

Archived >
The Deal - that all artists had to sign to be released by Null Spenn Records
Frank Robert A124 interviewed by FRIAVISA, Kristiansand, Norway 1998
---
HAPPY NOISE YEAR 2013 > new album: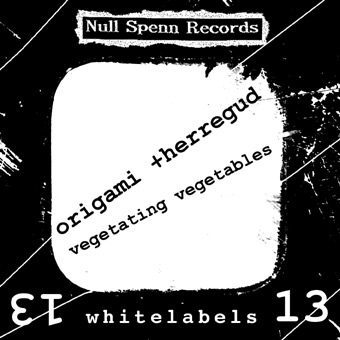 Origami H e r r egud+ IN vegetating vegetables...
launch new year´s eve...
RIPPPI Da´ ZIPpie
-------------------------------------------------------
REQUESTED RELAUNCH 2012 > convinced that the world really really needs lowlabels like this, the Null Spenn Records White Labels will continue to release great lower music. Two new albums are out (limited editions of 24 on CDR); Evil Moisture´s "Live In Paris" (.zip) and Linn Halvorsrød´s "Utkast Radioprogram" (.zip)... The RELEASE PARTY for the new albums was @ La Miroiterie, Paris, France, February 13th, 2012!!! (Origami Boe, Origami Boelus, Evil Moisture). More will follow along with reissues of the other titles ...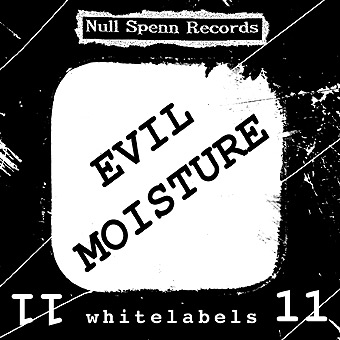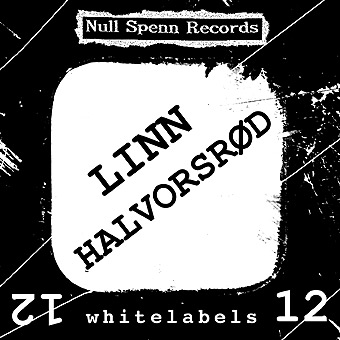 REQUESTED REISSUE > third edition of the important compilation that summed up what would be known as the "Trondheim Scene" and "Happy Noise", including several people who met and played there, such as Jonas Qvale, Lasse Marhaug, Michael Duch, Kim Xmazz, Tore H. Boe. A classic already, now available as a free download (.zip) >>>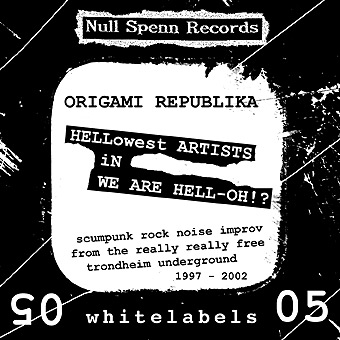 REISSUES IN THE PIPELINE >
wl1 THE SLAUGHTER SLITS in ANOTHER SLIT SLAUGHTERED A sleazeball of a post-electronic musical outlining the degenerated sides of mankind.
wl2 mAALEThELLIGERmIDLET666 / SOVIET SUBLIMINAL SEDUCTION vs KUMMERLIGE FORHOLD in The Havana Club chop clit split rehab collab aka The Aalborg Wussy Face Punching Posse kickin' cactus' up yr tight ass Side a: MHM666 is plasticnoisefuckinsanity. Side b: KF vs. SSS punishing harsh noise destruction vs. beyond fucked power electronic break beat. - Just why we love our Aalborg Jihad Neighbours.
wl3 2re / or_/ KAos in MISTENKELIG LENGE STILLE Absurd soundcollage, rejected and uncommissioned remixes a.o. from the uncrowned prince of performance, and introducing freshly degenerated post-musical soundscapes from the new OR faction.
wl4 O. MELBY in THE DAYDREAM NATION ALBUM A very different musical approach to a title initiated by another famous rock group. By [ohm] records own O. Absolutely post-music, digital squeeze & sleaze.
wl5 or_/REPUBLIKA presents: HELLowest ARTISTS in WE ARE HELL, OH!? A cdr jewel filled by the real Trondheim underground, not the radio formatted commercial crap that the we are hello compilations have become. This is as crude and blunt as it gets. Featuring: Ulrike Meinhof & The Detonators From Hell, or_/ Olympika, i quit !, Kåre Berntsen, Krey & The Crew, or_/ KAos, MBD, 2re, Cyberslits, Mrs. Hippi, or_/h e r r e gud+, The Nordic Miracle, a.o. > DOWNLOAD
wl6 or_/ OLYMPIKA in PLAYS FOR THE RUNNING WOMEN
wl7 or_/ VODKA in SHAKEN & STIRRED
wl8 or_/ REPLIKA in KA/ROSHI
wl9 or_/ AR TIKA in PJOLTERGEIST
wl10 or_/ OLYMPIKA in MEETS GOD
wl11 EVIL MOISTURE in LIVE IN PARIS > DOWNLOAD
wl12 LINN HALVORSRØD in UTKAST RADIOPROGRAM > DOWNLOAD
wl13 or_/ H E R R E GUD+ in VEGETATING VEGETABLES > DOWNLOAD
---


bs1 THE NOMAD NIPPLES AT SJONSTOCK Powerpop and realrock from this Norwegian band featuring Frank Robert A124 and other Origami affiliates. Demos and outtakes, plus live document from Christiania/Copenhagen, Trondheim and Sjonstock. With a bunch of ridiculous comments from the Sjonstock festival (in Norwegian).
bs2 ORIGAMY REPLICA in SHMERZPONKDADA .bootleg. Distorted and extreme live recordings from 97-98, ridiculous clips from interviews and microcassette tour recordings. Ultimate fan document. Bootlaid on cdr by Krank Records.
bs3 ORIGAMY REPLICA in SHMERZPONKDADA .bootleg too. More demos, rehearsals, jams from 97-98, more shitty than bs2. Awful, yet crucial. Bootlaid on cdr by Krank Records.
bs4 LOW-FI in BEST OFFs Long scummy minimalistic and powerelectronic soundscapes from allied multimedialists in Austria. Going to the roots of synthetic lo-fi, thus called Low-Fi.
bs5 ain't that peculiar? A collection of Frank Robert's all time favourite cassette bootleg tracks by a range of artists too famous to mention here. Mastered via microcassette for ultimate listening pleasure.
bs6 ORIGAMI REPLIKA'S TOUR REPORT A full hour of total ridicule, comments, interview surveillance, public toilet reports and various location recordings edited down from 3-4 hours of microcassette recordings from the May 98 Origami Arktika vs Origami Replika European tour. Oh, my!
bs7 ORIGAMI REPLIKA in THE WKCR NOISE FESTIVAL + HOMESHOW Back to the core of undestilled happynoise, first side contains a 30 min concert done from Norway via telephone hook-up to the WKCR '72 hour There's Nothing Wrong With Our Transmitter' Noise Festival in New York 97. SchMerzPunkDaDa-stuff. Second side is a long unedited source tape recorded at home when some people visited to make a video documentary. Scum noise. Originally released on cassette by New Noise/Nihilistic, The Netherlands 99.
bs8 VARIOUS ARTISTS with a HAPPY NOISE HEART The happynoise navigators' first commercial breakthrough. Noise, scum, weirdo. Cd-r, chrome normal and scum cassette masters carefully compiled and skillfully remastered onto a talk-book (vas) microcassette recorder. Cover Artwork by Roobah A143. Lot of beautiful and amusing trash. Featuring: Origami Ballistika, M. Nomized, The Violet Grind, Liz Gizzad, Origami Replika, Holy Toy, Lasse Marhaug Gospel Combo, Mourmansk 150, or_/h e r r e gud+, 2re, Mrs. Hippi, Judge Replika A95, Origami South Amerika, Charles Bascomb, Ring, Origami Erotika, Alexander Rishaug A110
bs9 VARIOUS ARTISTS worship the ROCK GOD And just when we all thought Rock was dead, along comes a lot of Rock Gods. Sleaze, weird, covers, trash, etc... Say No More. Cover artwork by Roobah A143. Featuring: Ring, The Nomad Nipples, Verstise, Origami Epeleptika, Charles Bascomb, Ave!, Ulrike Meinhof & The Detonators From Hell, Alexander Rishaug A110, Liz Gizzad, Remora, 10th Floor Orchestra, Mrs. Hippi, TMX & The Starfighters, Burt Reynols Ensamble, Kaptein Kaliber, Junkyard Sect, 2re, Lasse Marhaug
bs10 MARHAUG/BAD KHARMA in RED TAPE ROT 2 This is the second installment in the highly academic series of ten scum tapes on ten different labels by polar bear wrestler Lasse Marhaug and wasa-man Bad Kharma. Highly skilled scum noise, deviant and complex structures, goes on forever.
bs11 HUMPTY DUMPTY'S ONLY ARTS-CLUB BAND/TONIC YOUTH (C90) Side one contains the somewhat surreal musical landscapes of Null Spenn designer Roobah A143, songs, structures, soundscapes, funny vocals in Norwegian. Side two contains Tonic Youth, a one-off project appearing on a jam-session with people from Slowburn, Del, Oddpop, Palace Of Pleasure and Origami Republika. A strange blend of trip-hop drumbeats, electric guitar/softnoise atmospherics, nonüsense, broken funk and fingerpickin' acoustic guitar.
bs12 a trick of the light A live recording from the Civic Auditorium of San Antonio October 70 that goes back to the roots of incorporating `weird sounds` in progressive popular music. A real treat in lo-fi documentation. Previously unofficially released.
bs13 SWEIN in BOKS The first somewhat eccentric tape of Cirkus Gilmour member Swein, including a lot of sketches for what should become notorious CG tracks and other stuff. A bit broken `agderblues` from the south coast of Norway, melancholic and theatrical. Really personal songwriting and sounds at the peak of what loüfi is all about. Originally released on cassette in a wooden box with colour booklet by Lundberg Musikkselskap, Norway 94/95.
bs14 SWEIN in MORNING AT LAST Most recent cassette album from Swein, with more wonderful songwriting and absurdities in decent sound. The integrity of this project is unique, and here you can enjoy `agderblues` at it's best. Maybe a bit more poetic than bs13. Mostly sung in Norwegian dialect. Originally released on cassette by Lundberg Musikkselskap, Norway 98.
bs15 R. SUNDIN in DROWNING IN A SEA OF HISS (C90) Three soundscapes developing from ambient minimalism and delinquent musique concrete into evocative powerdrones. Recorded by wasa-man Ronnie of Bad Kharma, Trondheim, No-way 99.
bs16 RING vs MRS. HIPPI in HOPES & HEADACHES First cassette of outtakes, sessions and unplugged recordings from two fine Norwegian songwriter bands. Ring is mellow, ramshackled and intimate, and the style is easily recogniseable yet uniquely personal. Mrs. Hippi is an occasionally drunk noisabilly duo with some joyous tunes between more melancholic ones.

bs17 VARIOUS ARTISTS eat SHIT KEBAB The cd-r that came with the notorious one-issue 44 page scum xerox fanzine edited by Hilmer Helfe, including a lot of the cool Null Spenn Artists. Featuring: or_/ Replika, Liz Gizzad, Filip Andersen, bad kharma, Reynols, Simplifax, Ring vs 2re, Ulrike Meinhof & The Detonators From Hell, Humectant Interruption, John Hegre, i quit !, Fuck Copyrights Foundation, Mrs. Hippi, The Violet Grind, Lasse H. Bøe. Originally released as zine + cdr (see above)
Archived >>>
bad kharma Interview - frankie A124 asks Ronnie A167 some things
Ring Interview / 98 -frankie A124 asks Filip A141 some things
Simplifax Interview / 98 -frankie A124 asks some people some things
Georg Gartlgruber of CRACKED wrote: Thank you for Shit Kebab! It is weird & cool. Especially the Reynols interview is great. And the CD is great. Well, my wife keeps turning it off whenever I listen to it while she is around, so I got me headphones. There is always a solution, isn't there? Are there really only 22 copies? If someone asks me, can I make a copy for him. Since there are no copyrights I figured I could but I thought I ask permission anyway.
Lasse A73 answers: I'm glad you like Shit Kebab - it is not weird it is punk DIY fuck commercialism copyright sucks capitalism rules. Hum hum. Reynols are wonderful, I like them a lot. Your wife is right, the cd is horrible. You're the loser, sitting there like a jerk with stupid headphones. You can copy as much you want of the zine. Sell it even. We thought 22 copies were enough (actually Hilmer and Frank Robert planned 31 copies but I convinced them it was unrealistic). Hope all is well with you.

mp39 or_/MAXIMALISTIKA in KA/skader Remix Relaunch of this web exclusive piece by our favourite in-house remixer
mp38 or_/ARKTIKA in Tagaq Sessions
mp37 or_/MAXIMALISTIKA in Exclusive ¡i quit! Remix Relaunch of this web exclusive piece by our favourite in-house remixer. ¡i quit! is or_/uansett.
mp36 or_/ ROMANTIKA in Seven Inches Of Love Bootlaid Version The only ever or_/ republika normal rock song recording was released by or_/romantika with great help from Suggestion Records as a present to Elisabeth A15 at her wedding to Boe A22 in 1996. Side a is "Seconds From You" by Sister Rain and sung by their vocalist Aslak A36, side b is "Venus In Furs" by Velvet Underground.
frank robert A124 says; cool!!! - or_/ has eyes and ears everywhere, and what was found on the internet was a treasure. someone (we have traced you down, thank-you-very-much-will-you-be-surprised!) has recorded older or_/ republika 7"s and uploaded them. isn't that smthn? AND the very fact that make me wanna push 'em here (yes there's more, ka, erotika, replika), is that something (phasing? conversion?) has made them sound really different from the originals (occasionally at the wrong speed even). the record player itself is playing along, but the atmosphere is only strengthened by it. enjoy.
mp35 or_/ NEUBORGSPOUTERS in Neu.Borg The two first CREATURES from this recently activated subunit only open to registered supporters @ neubauten.org, love and theft.
mp34 2re + ORTHO in the INFANTILITY CLINIC
A fine documentation of 2re's meeting with ORTHO, appearing as TORBO ORTHO at Art's Center On First, Jersey City, March 2001. Tracks: Infantility Clinic Live, Infantility Clinic Playback.
mp33 MBD in June 2001
A new FREE MP3 SINGLE, this time presenting the new postjazz improv trio MBD (Marhaug, Bøe, Duch). Recorded live at Klubb Kanin, Lo-Fi Kafeen/Ni Muser, Trondheim, Norway, 060601. Tracks: 2001/1, 2001/2.
mp32 RING vs 2re
Another great FREE MP3 SINGLE, this time a meeting between Filip Ring Andersen A141 and 2re. Two fine RING song-writer tunes, played so you hear the great respect both have for His Bobness Dylan. Vocals, guitars, drums, harmonica and tapes. Recorded at Panikk Fabrikk, Kristiansand, Norway. Processed and produced at studio o/r/k/a 98. Tracks: Cinemascoop Performance, Cheap Rented Rooms.
mp31 i quit !
Harsh power-electronics with Norwegian lyrics from the Mot Dag magazine (1922). Tracks: Soldatersang, Loven, Løgneren.

7.1 2re in UnBoB
7" vinyl catalogue for the Bob Dylan 60th Birthday exhibition, Galleri Koncentrat, Trondheim, Norway may 24-27 2001. Track: Whisperin' New York City, The Harmonika's Playing The Skeleton Keys Of The Rain, Only A Pawn In The Fan Game. 100 copies.

w1 or_2re in NO KASH FOR KAOS b/w KARMA KAMELEON
Two harsh power loops make up what is counted as the world's first AIFF single.
w2 or_/ h e r r e gud+ in SYLSKARP SOL b/w PØLSEFAEN
Two friggin´ songs from the worst band you can imagine. > LISTEN!
w3 or_/2re in CONSCIOUS b/w UNCONSCIOUS
More not-net.art from the master.
---