origami republika > archive > surf all
folder: 3.0 PRODUCE
subfolder: 3.3 LABELS > next folder
---

This Origami Republika socio-philantropic archive is dedicated to the documention of the roots of numusic, lowest arts, zoorealism and reframed folk culture around the fringes of our network. It is also our local global jukebox and Alan Lomax tribute page. AND it is a gift to humans and others that suffer from collectomania, as it covers material otherwise (not surprisingly) unobtainable.
The zips include the recordings as they were, both original and printable artwork, text and sometimes a video or related photos.
The values conveyed are not necessarily those of another organisation with a shamelessly similar name. Musically this material is part of the nonsensus that a great United Nation is built of. The selections are made by Karen Karnak Elliot A97, lay-out and uploading by Boe A22.
Inside each zip you will find a voucher; download and send in three different ones and you will receive a link to the elsewhere impossible to get "secret" Origami Republika album.
NOTE: We are considering material for further releases in both series below >>> Contact

---
The Underworld Heritage Series - now as free zip downloads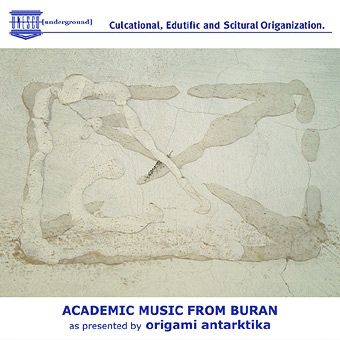 uh01: ACADEMIC MUSIC FROM BURAN as presented by Origami Antarktika
01] Interaction 1
02] Interaction 2
This invaluable and rejected recording of prepared piano and feedback clearly shows the origin of the great tradition that has earned Trondheim such status internationally.
It was conceived and performed by Jonas Qvale A196 (prepared piano, microphone/tremolo/speaker setup, Ibanez and Boss digital delay effect pedals, pebbles). This recording contains two public performances of the work held on July 28th, 2001 in a barn in Holmestrand (a village famous for the tunnel leading you around it).
Of special note is the bold use of pebbles tossed onto the strings of the piano in the beginning of both versions. A total disregard of conventional recording techniques has resulted in a rooster crowing, an engaged child audience member, footsteps and intermittent outside traffic noise throughout, making this baffling audio document exciting listening material. There is no end to it. Rhizotto.
The artist came to maturity in the Buran academic circles around the turn of the millenium, and the two recitals captured here are very much products of their time and of that curious scene. Buran is a part of Trondheim inhabited by very old people and younger students, artists and academics. It is also an area close to the more famous "alternative" Svartla'mon.
Originally released as "Jonas Qvale: Prepared Piano & Feedback", later available as a free download via Panot, Norway.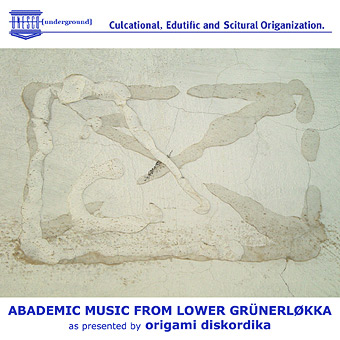 uh02: ABADEMIC MUSIC FROM LOWER GRÜNERLØKKA as presented by Origami Diskordika
01] Vidda
02] Bilen
03] Havet
This is a very interesting display of the roots behind what has become Norway's new scene of internationally acclaimed artists; the NuJazz, or post-jazz as it's also known. Going back to the source of making music, whispering through the horns, adding a lot of pregnant silences and reviving the "ur-vokal", it's all here.
This is solid proof that the trend sprung out of the bohemian regions of Lower Grünerløkka with a whiff of influence from Little Tøyen, Oslo, Norway.
Furthermore you´ll find traces of various outern influences like West-Tullamore tingams, the Kemi throatscurge and reves-globolic ipodermia. Like they seeped through the national grid and saturated the shower towels of expression.
In these sessions we witness the enchanted work of local poet Stein Holte with Origami Vokstervisse´s own Rune Flaten A53.
It was recorded at Dusjen Studio, Grünerløkka Lufthavn by Neil Manipura A94 who also added background vocals, and mastered by Kelly A34. The original cdr was released by Voices Of Yonder as "Rune & Stein Spiller Blåseinstrumenter", in such a valuable edition that you won´t even find it via eBay. Photos by Are A12, design by Jan I. Jarre. "Takk til Beinstein, Blå, MIR, 3ne and anyone who know who they are."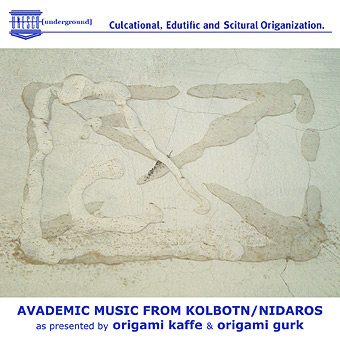 uh03: AVADEMIC MUSIC FROM KOLBOTN/NIDAROS as presented by Origami Kaffe and Origami Gurk
01-06] Origami Kaffe in "The Sun Session"
It has been pointed out that the best thing about the mystic recreational woods known as Nordmarka is its close proximity to the village of Oslo. In much the same way it can be pointed out that the best thing about the young country known as Norway is its close proximity to the World. Thus you can mix the inevitable fingerplucking late-nite rites of the urban neo-Norwegian folklorist with the concept of "tapas y tranquilidad" and utter presence.
As a break from his involvement with folk ensembles like Masselys, Lasso, Origami Arktika, Coffee & International, Origami Kaffe, Salvatore, Dj Hakkiplaton, Palace Of Pleasure and Vortebekk Spazeband; Bjarne Larsen A16 did this by visiting the Macaronesian island of Gran Canaria in the early zeroes.
Situated outside the south coast of Morocco, he chose to record some informal (and instrumental) themes on his acoustic guitar. Well, that means that he played the guitar and it was recorded onto a DAT-cassette in a local studio. Gently picking the strings, the inspiration slowly shifted between continents and cultures. This turned into a session as pure as a taste of Utopia on a summer´s day, something that already makes it unique.
07] Origami Gurk in "Play The Beatles"
Before seeking out a more commercial approach on the NoAward™ winning album "Age Of Reason" with Seidmen and Elise (TRASS! anarchives/Ambolthue), the Gurks already had this groundbreaking recording session behind them. Here they explore the states of art, music and mind-over-mountains that has so much in common with Senegalese noise-psykedelia, the Pippa Holstein Schoool Of Sonosemantics and the hailstorm of shoegazer-rock that came out of the Nidaros area through the tribalism of among others Motorpsycho and Mrs. Hippi.
By envoking a cover song of the fairly successful liverpoodlian group we know as "The Beatles" (although their real name is still kept a secret), the Gurks cross-fertilise the true spirit of the 'cross-the-sea brotherhood of man with the toe-numbing traditional Topy astroturf. No vitriolic vesper can hide the fact.
The original master was thrown into the Tronhjem Fjord for no particular reason. Or maybe to make a statement. Or maybe to make a comment. Holes burnt in the polystyrene fabric of reality.
---
IN THE PIPELINE >>>
uh04: ALADEMIC MUSIC FROM BOUVETØYA as presented by Origami Diskordika
This is a great introduction to the cultural expressions of the penguins at the remote island Bouvet.
Bouvet has been occupied by Norway for a long time, and here you'll get to know the love songs, the mating songs, the liberation songs and the mythical songs about the great Orca.
This invaluable recording of a penguin delegation was made at a Bouvetian Cultural Event at Kunstnernes Hus in Oslo, February 27th, 2002. It was presented and translated by Norwegian political supporters handing in an official petition to stop the occupation.
This document shows the utter importance of cross-cathegorical zoorealist actionism. Humans are able to share feelings with that which we eat or make distinct. But mankind can change, and the brave abd poetic penguins are showing us the way.
"Nextti, giirk guuur - criiiá naka ziiiit!"
"They can cut our wings off, but they can´t take away our dream about being able to fly."
The zip includes a video showing the seldom seen sight of the Bouvetian Penguin Delegation.
uh05: ASADEMIC MUSIC FROM ESCANDINAVIA as presented by Origami Diskordika
Compilation feat. a.o. Origami Skandimaffia, Origami Arktika...
---
The History Of Mjusic Series
uu01: [john] caged 3'93'' as presented by Origami Tore - deleted
A unique environmental recording commemorating 90 years since the birth of John Cage. Originally released undercover as "Tore Honoré Bøe", in 10 copies on a businesscard size cdr. The work was commissioned by Karen Karnak Elliot A97 for her isntallation "Caged" at the Galeria NA, Latvia, 2002.
---
NOTE: We are considering material for further releases in both these series >>> Contact

---