origami republika > archive > surf all
folder: 3.0 PRODUCE
subfolder: 3.3 LABELS > next labels
---
Major Ego Produkt > catalogue > objects & actions
---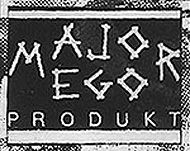 Major Ego Produkt was a label/production company obviously run by Major Ego A777 (real name Per Oscar Jørgensen) to secure 100% artistic and economic freedom within the framework of Origami Republika/KomKol Autoprod.

As usual most releases materialised in cooperation with other labels worldwide. We at the hq have done our best to forgive & forget how major ego took over the show so we had to shut down Origami Replika, and now finally we can think of him again.
These relics are crucial to the understanding of contemporary scum culture and the ridiculous phenomenon that goes by the name noise.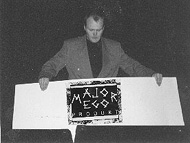 1996:

"After the Replikants manifested a break away from the whole Origami Republika body last year, mostly due to extreme disagreement on economical priorities regarding tours and recordings, we have now called a truce under these understandings:
Major Ego Produkt will be 100% responsible for any artistic contents and eventual income from Replika-related products and projects. Then they can decide for themselves if they can afford a release or a tour and such. So, from now on, Major Ego Produkt and Origami Replika want to call themselves a "temporary autonomous zone" within KomKol Autoprod."
- Guess we at the core of Republika/KomKol did take both the provocation and the conflict, and we did get the point! At least we avoided the first attempt on isolation.
---

MAJOR EGO PRODUKT main katalog >>>
MEG1 Origami Replika | Ka/Skader | CD | Jazzassin Records | 1997 | DELETED
MEG1.2 Origami Replika | Ka/Skader | C90 | Gürteltiertapes | 1997 | DELETED
MEG2 Origami Replika | Barad Dür | VHS | Jazzassin Records / Soffitta Macabra | DELETED
MEG3 Origami Replika | SchMerzPønkDaDa 7" | CD | Jazzassin Records | 1997 | DELETED
MEG4 Origami Replika | SchMerzPønkDaDa Rock'n'roll Album | CD | Pjuice Rerodz / Terminus Proximus (rapidshare.com)
MEG5 Origami Replika | SchMerzPønkDaDa Alive | CD | Terminus Proximus (rapidshare.com)
MEG6 Origami Replika | SchMerzPønkDaDa Alive II | CD | Terminus Proximus (rapidshare.com)
MEG7 b9 | See You At The Go-Go | 2x10" | Siri Rekkårdz | 1998 | DELETEDMEG8 Urd Barbarian | Urd In Bondage | CD | 1998
MEG9 Origami Replika | SchMerzPønkDaDa mp3BUTE | MP3 ALBUM (cover versions by others)
MEG10 Origami Replika | SchMerzPønkDada Commercial Album | LP | The Disaster Area | 1998
---

MAJOR EGO PRODUKT objekts & aktions katalog >>>
Major Ego Produkt Objekts & Aktions is a list of ultralimited edition trashart objects, playable and unplayable (1-50 copies)
EGO1 Lasse Marhaug
Seven Inch Lp
Playable 7" mounted on broken lp. 19 copies. Originally a Herb Mullin split-7" brazilian release from some years ago, now mounted on a painted LP
EGO2 Origami Replika
Roots '80 Bootleg
Tape in radio/tapedeck. 2 copies. A Replika rewreckording of lousy tape bootlegs from a.o. Laibach, Munch, Einstürzende, Psychic TV, This Heat and Swans. Packed inside a fully functional tape deck and radio, you have to unloosen the screws to get it out. The remix of this tape was later released as a fee mp3 album/cdr by TRASS! anarchives/Ambolthue
EGO3 Origami Erotika
Hard Sex Can Be Healthy
7" + Pornmontage on wood. 1 copy. Special edition of the Origami Erotika split-7". App. 60x80 cm. Cheesy.
EGO4 Origami Replika
Dessert=Loops
Tape in glass of jelly. 10 copies. Exclusive music and concept by Lasse Marhaug A73, antifascist dessert jelly, nazi scum eat shit instead. Last copies destroyed as seen in the 7 minute video documentary that was made at the time.
EGO5 Origami Erotika
Cum On
Tape w/pornmontage and sperm. 1 copy only. Tape includes a dildo/latex recording done for a compilation tape on Nihilistic Recordings, Netherlands, full colour porn montage in glass-frame
EGO6 Origami Replika
New Years Eve 96/97
Tape in box w/ashes. 2 copies only. A ritual fireplace destruction of tapes and various covers, manuscripts and sketches. Performed by Major Ego A22 at New Years Eve 311296. Photo-documented
EGO7 Lasse Marhaug
Crush Country Skiing
Cd-r. 10 copies only. Actually a playable cd-r of exclusive freeform/noise material running over 60 minutes. Comes in elegant handmade cover. Will not be reprinted. Numbered and signed
EGO8 Origami Replika
Ka/blod + Barad Dür
Tape in box w/broken glass. 10 copies only. Live recordings of two concerts; the Ka/Blod concert at Veita Scene, Trondheim, Norway 040197 and the Tolkien-based performance Barad Dür at Knaus, Trondheim 091196, the first supervised by Major Ego A22, the second by Lasse A73
EGO9 Origami Replika
Vinyl=Matter=Enslavement
Unplayable lp/cd object. 24 copies only. Absolute trash object made from lp, cd, and various material. An ironic comment about the world situation compared to the value of our record collections
EGO10 Origami Arktika
Nidaros 97
2 tapes mounted on wood. 10 copies only. Includes all the sessions and live recordings around the Origami Arktika support act for Swans, Trondheim 150297. Special version of KomKol Autoprod cat.no.101
EGO11 Origami Replika
Fucking Pure
C60/90 in fake RRR cd-cover. 28 copies only. Bootleg remix of RRR's Pure cd-series by Lasse Marhaug A73 and Major Ego. Rejected as cd-release by RRRon himself
EGO12 – Origami Grafika – Jailhouse Rock – Tiny wooden box w/objects
(10 copies only). A very personal intimate statement indeed.
EGO13 Origami Paprika
Food For Thought
Box object. 8 copies only. A statement that will make you laugh or freak out. Rotten red pepper on pilaff in plastic box
EGO14 Origami Replika
Analog Crash
Broken 4-track mixer w/original tape. 1 copy only
EGO15 Origami Erotika
Seven Inches Of Meat
Four-colour cover original. 1 copy only. The original pornmontage for the seven inches poster cover. Hardcore. Mounted and 'signed'
EGO16 Origami Narkotika
Drum & Bass
Tobacco/chunk of hash. 10 copies only. A word joke (bass=beis=chunk of hash, drum=tobacco). Was not available abroad due to custom regulations
EGO17 Origami R.I.P.lika
xxxx
xxxx
EGO18 Lasse Marhaug
Metal Single Man
7"ep in solid metal cover. 1 copy only
EGO19 Origami Replika
Best Of Popular Music
3xcd in special cover. 1 copy only. Three blank cd's in very special portofolio cover. A statement on popular music (soulfunk, drum'n'bass, britpop)
EGO20 Origami Erotika
OTTAR Remix
Box w/shattered 7"s and glass. 1 copy only. The rest of the 7"s, a remix by OTTAR (Norwegian fundamentalist feminist group)
EGO21 Origami Vodka
Omslagsmelodier 97
Tape in special packaging. 4 copies only
EGO22 Origami Grafika
Paper Tapes
Box. 1 copy. A bunch of lighters and an original tape glued to a paper weight

EGO23 Origami Romantika
Fake Jewels Warm Greetings
Photo/var. 2 copies
EGO24 Lasse Marhaug
ScienceFictionRoomService
Cd in very special packaging. 4 copies. By Geir Yven A105
EGO25 Origami Erotika
Naughty Nostalgia
Tape with dias-montage. 30 copies. Soundtrack for erotic performance, released with original slide glued on the cover
EGO26 Origami Vodka
Handengraved glasses
28 copies. Handed out at the Fellessentralen exhibition 98
EGO27 Origami Epeleptika
KiT Clit
Original cassette wrapped in the Trondheim art academy. 1 copy
---
Most of the items above are deleted long time ago. Some might still be found.
The almost complete work in this series is owned by The Yven Collection (or_/fanatika)
---