---
the origami boe worklog >
work 004 : noise diary
unpretentious 4 minute pieces performed live and direct with or without audience (various formats, online, 7", 3"cdr, compilation entries)
---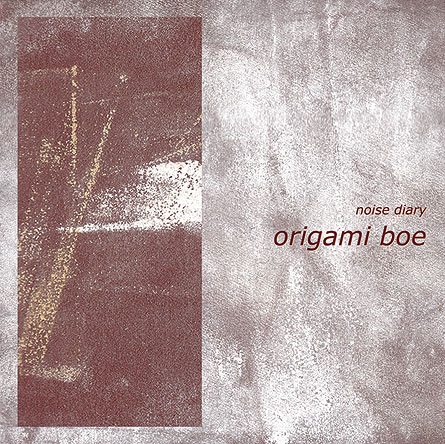 01] A070207 @ lalacuatro, San Fernando
02] B070209 @ lalacuatro, San Fernando
mp3 singel | komkol 222.1 | Ambolthue Records 2007
---
03] C070211 @ lalacuatro, San Fernando
for upcoming "Post Guantánamo Diy" comp | TRASS! anarchives/Ambolthue 2011
---
04] D070501 @ lalacuatro, San Fernando
(unreleased)
---
--] E 070805a @ Sound Of Mu, Oslo
(unrecorded)
--] F 070805b @ Sound Of Mu, Oslo
(unrecorded, with Thinguma* Jigsaw intermission)
Lasse Marhaug´s release party at Sound Of Mu in Oslo, Sunday August 5th, 2007: two pieces was introduced as christian noise from the south, as they were based on black sabbath bootleg recordings. As it was a "cassettes only" night, they were "performed" on one dictaphone. I got my newfound friends in the duo Thinguma Jigsaw to do a direct intermission between the two parts, falsetto voice, saw and banjo setting an effective contrast to all the noise. The second noise blast failed due to trivial technical errors (my dictaphone died shortly after), but who really cares, it´s noise noise noise... 2 times four minutes with intermission.
---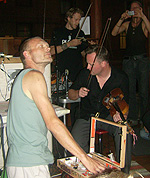 05] G 070812 @ Klubb Kanin, Sound Of Mu, Oslo (w/Qvale A196, Hovinbøle A186)
or_/republika: live rough compilation web album/cdr comp | TRASS! anarchives via Ambolthue
---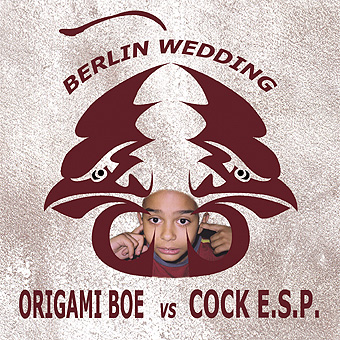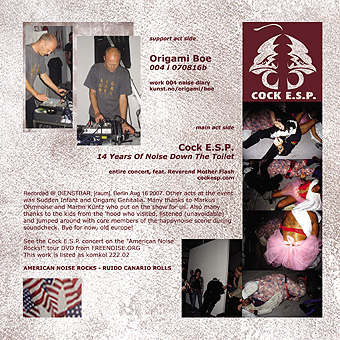 --] H 070816a @ DIENSTbar, Berlin
(unrecorded)
06] I 070816b @ DIENSTbar, Berlin
split-7" singel A | "Berlin Wedding" with Cock E.S.P. | komkol 222.2 via Humbug
Hah, for once i could be the noisemaster, opening a night i´d managed to book for my friends Cock E.S.P and or_/genitalia (with Sudden Infant added) at DIENSTbar, this time at [raum] in Berlin Wedding, Thursday August 16th, 2007: The soundcheck was visited by local kids of various colour and creed, jumping around and taking off on the extreme frequencies, playing with the noise performance elite of Cock ESP and Sudden Infant. Ready Steady Boe! Microphone feedback and by now unsteady dictaphone, black sabbath made it into the mix once again. 2 times four minutes, forgot to press record before the second part.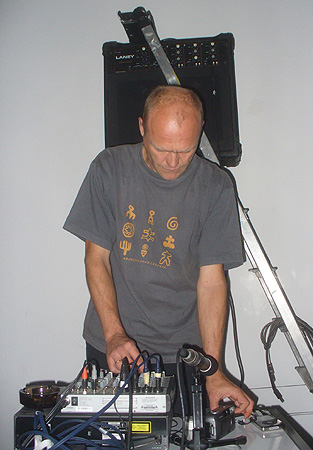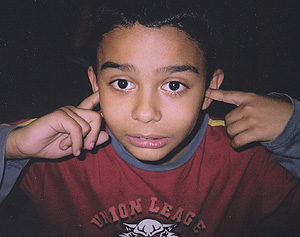 ---
07] J 070817a @ lalacuatro, Berlin
(unreleased)

08] K 070817b @ lalacuatro, Berlin
(unreleased)
---
09] L 070818 @ lalacuatro, Berlin "stralau 68 aftershow remix"
lo-res mp3 | Floppyswop 2007
---
--] M 070829 @ Klubb Kanin, Ni Muser, Trondheim
(unrecorded, blabber and wrong playback track)
---
10] N 080115a @ lalacuatro, San Fernando (w/Hovinbøle A186)
11] O 080115b @ lalacuatro, San Fernando (w/Hovinbøle A186)
3"cdr | komkol 222.4 via R.O.N.F Recording
---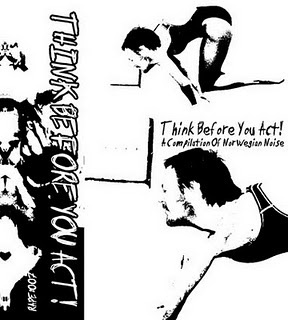 12] P 080214 @ lalacuatro, San Fernando
"Think Before You Act!" | compilation cassette | Tape Rape (Ambolthue)
---
--] Q 081027 @ DIENSTbar, Berlin (with [ohmnoise] and billy!)
(unrecorded)
---
13] R 091224 @ lalacuatro, San Fernando "christmass session"
(unreleased)
---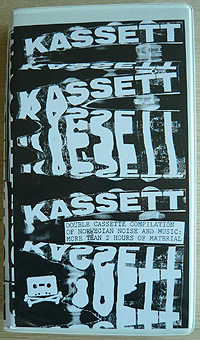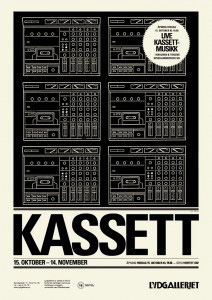 14] S 100510 @ lalacuatro, Mátaro
double-cassette compilation for exhibition in Lydgalleriet, Bergen
"For this celebration of the cassette as carrier of mostly unsolicited poetic information, Origami Boe went through his recording archive and carefully selected this classic kz ballad. Forming a part of the ongoing Noise Diary, the source material was recorded on a dictaphone outside the Can Xalant art center in Mataró (Spain); a weird old man rehearsing his trumpet, the typical birds in the trees, some workshop surveillance tape, so on and so forth. Later that evening the material was soberly processed on the pc, using a simple piano presample as foundation and adding manipulated dictaphone recordings as ornamentation. It's hard not to cry. No talent, sorry."
---
16] T 110513 @ lalacuatro, San Fernando
(unreleased)
"Capitalism saw to it that I had to cancel a spring tour, so instead I chose to send this track to be presented by Markus Schwill @ DIENSTbar, Galerie 91m2, Berlin, Germany, May 17th, 2011."
See > video
---