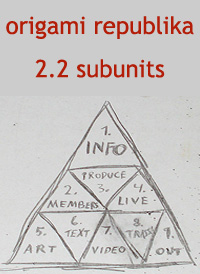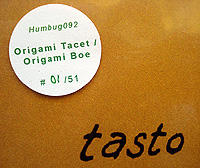 ---

origami tacet = an acoustic freestyle duo playing concrete postjazz.
origami tacet = playing live acoustic cut-up musics.
origami tacet = quoted playing a unique mix of improvised new music.
origami tacet = weaving a net of references from the contemporary and classical.
origami tacet = see no contrast between beauty and energy and flux.
origami tacet include abrupt silences that make room for other musicians.
origami tacet has performed with Nils Henrik Asheim, A. Neumann/A. Krebs, Tor Haugerud (Transjoik), Per Borten (Cadillac) and .murmer
"Here the very center of the storm was reached. A really beautiful and playful duet, the double bass reaching the deeper parts of our soul, and Boe caressing the surface. All was quiet and all was well." - Rinus Van Alebeek blog
---
press >>>
The acoustic post-jazz duo of Michael Francis Duch and Tore Honoré Boe is based on expanded and energetic use of acoustic double-bass - for which Duch recently received a Masters Degree, blended with the chaotic and trivial sounds coming out of the "acoustic laptop" and percussive tease-denials of Boe.
It is usual for the duo to invite other artists along with them onstage, as their music certainly creates enough space for it. Previously collaborations; Nils Henrik Asheim, Annette Krebs, Andrea Neumann, Tor Haugerud, Per Borthen, .murmer
The duo is appearing on various formats in ultralimited editions and on compilations worldwide.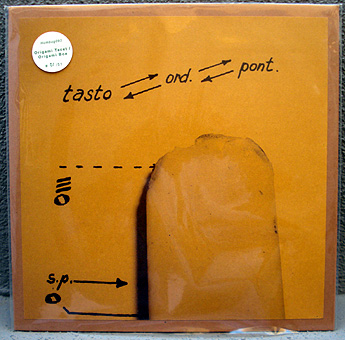 agents >>> Michael A192, Boe A22
produce >>> In Low-Flux 3"CDR, Tour Souvenir CDR, Beckett Suite Exc. MP3 Single, Renosance (feat .murmer) CDR, Silence Makes Us Sweat (feat .murmer) CDR and on various compilations.
live >>> Berlin, Dresden, London, Oslo, Stavanger, Trondheim
Michael F. Duch (double bass, violin, objects) has a master degree in double bass from the Music Conservatory in Trondheim, Norway - his hometown. He has played with an impressive roster of known and not-so-known musiciansMichael Francis Duch (1978) was born and raised in Trondheim, Norway, and plays the Doublebass. He is currently a research-fellow at the university of Trondheim doing research on Free Improvisation and the use of Improvisation in Experimental music. He has been involved in about 20 recordings released in various formats, and has played solo-concerts in Stavanger, Bergen, Trondheim, Oslo, Tromsø, Glasgow, Gothenburgh, Athens and London. Duch plays in a trio with Rhodri Davies and John Tilbury, the rockband Dog & Sky, the Improvquartet LEMUR with Bjørnar Habbestad, Hild Sofie Tafjord and Lene Grenager, dronetrio TRICYCLE with Anita Kaasbøll and Nikos Veliotis, acoustic postnoise with the duo ORIGAMI TACET with Tore Bøe, and different other constellations. Ad Hoc collaborations with Otomo Yoshihide, Taku Sugimoto, Sachiko M, Mark Wastell, Mattin, Mats Gustafsson, Peter Brötzmann, Jaap Blonk, Gert-Jan Prins, Christian Wolff, Tony Conrad, Cadillac, the Kulta Beats and Salvatore amongst others.
Boe (acoustic laptops, editing, objects) has his background in running the origami republika art'n'music network since 1990, and has a long list of releases, actions, concerts and collaborations behind him. His hometown is San Fernando on the Gran Canaria island.
origami tacet is the focal point of their musical exploration together.
---
November 2007: The 'e.xtrem t.on' web album of the set at A/Z Conni in Dresden is out on Ambolthue Records. This might serve as the best example of or_/tacet live. Enjoy another free album download.
September 2007: The 'In Low-Flux' 3"cdr of ten minimalist tracks is out on Ambolthue Records. First edition rapidly sold out, second edition out now!
May 2007: You'll find the track 'aDaD' on the brand new compilation cd "Don´t Get Annoyed - Get Inspired" from Ambolthue Records
Aug 2007: Played the Oslo Jazz Festival, TOU Scene in Stavanger and Klubb Kanin Trondheim. Played Stralau 68 and Salon Bruit in Berlin, as well as AZ Conni in Dresden.
The Stavanger night (or_/boe with Pål Asle Pettersen, Iversen/Bjerga and or_/tacet with Nils Henrik Asheim was rapidly bootlegged by the infamous "Hva med å tilberede på hvanlig 'pølsemåt' dampe dem eller trekke de i godt 'pølse vann' records".
---
e.xtrem t.on MP3 EP >>>
'It opens with a short plinking competition before sliding into more complex work, the bass offering slides, pulses (that seem looped), plucking and soft scraping while Boe pops, clicks, and percusses. The tracks can be identified as the structure changes - the pulsing loop is played with rapid percussions, a drone accompanies an earthquake of contact miking, a more abstract bass solo or the toy piano (or plucked tight strings in the box) with similar sounds from the bass. This is a very nicely paced album - well considered changes and combinations, with the two artists working off each other. The acoustic warmth of the bass is a great boon, balancing the shorter harsher acoustic laptop material.' - Ampersand Etc.
'As Origami Tacet, Tore Honore Boe played with Michael F. Duch. The latter plays double bass and Boe his acoustic laptop - which is a suitcase full of small acoustic objects and contactmicrophones. This recording was may in Dresden earlier this year, at the 'E.xtrem T.on' festival/event and during some twenty minutes the two play a thoughtful piece of music - of a more sorrowful nature. There is 'Elegy For Tony Wilson' (who died a week earlier), 'Glass On The Beach', 'Nick Cage' and 'Einstein At The Zoo' - I have no idea why it lists four pieces, as there is only one on the release, but perhaps there are four distinct parts. It's always not clear with improvised music when things start and stop, but the controlled improvisation of these two is quite nice too.' - Frans DeWaard, Vital Weekly 604
---