KA playing their comeback concert at Blæst with Alexander Rishaug as guest, 2010
2013: KA had a short studio session at Brugata, Oslo and participated to the Free 23 Year Album. KA is currently working on new material for release.
2012: In the summer of 2012 KA played Støy På Landet again, this time in Hommelvik. Then they did their first concert in Oslo in 9 years at Sound Of Mu.
2011: KA did a brunch concert at Fosen (Støy På Landet)
2010: KA returned after a 7 year hiatus, performing with Alexander Rishaug in Trondheim (Ny Musikk/Blæst). The complete back catalogue was reissued as an 8 album free mp3 download set.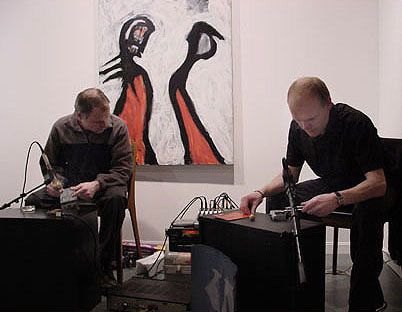 KA playing at the opening of an exhibition by Guttorm Nordø, 2002
KA is Kai Kobi Mikalsen A80 and Tore Honoré Bøe A22, with previous agent Kjell Braaten A34. KA is creating electro-acoustic soundscapes varying from ambient atmospherics to powerful musique concrete. KA use objects found at the location - socalled found objects - contact microphones, acoustic laptops, manipulation of location recordings and descreet electric/electronic effects.
"Time ahead I'd say, a pity we had to wait for so long." - FdW, Vital Weekly
KA is known to take advantage of any trick from the history of deviant art, surrealism and dada in performance; KA has dyed a t-shirt blue, fried onions, covered itself in shaving foam, frantically looked for lost band members underneath guitar-pedals. KA has played 28 seconds of extreme noise then disappeared, stuffed jackets with potato chips and narrated poetry in fake tongues, crawled around stage barking while being hit with a chain. KA has flipped silver cutlery onto the church floor while eating apples of sin, hammered and sawed over stage tables, cables and done general re-construction - like building a chair as a birthday present.
"Unlike many artists who drown their music in reverb-effects making it sound dull and machine-like, KA places the ambience at the bottom and the "small" sounds on top, this making it more intense and intimate." - Lasse Marhaug
KA has performed in Poland, Canada, Germany, Denmark and Norway. KA has released material in various exclusive formats; 7"+10"+LP set, 7", split-cd, 1 copy cassette, compilations and cdrs. KA has worked with the Norwegian visual artists Guttorm Nordø, Roger Pettersen, Jan Skomakerstuen, Ellen Røed and Alexander Rishaug.
"The reply comes scrambled, dangled, dandered in sound - all bits of it from the hospital floors. The midnight sun grumbles and whistles down the corridor, but what does it rise on, if not the horizon? A revolution per minute?" - DC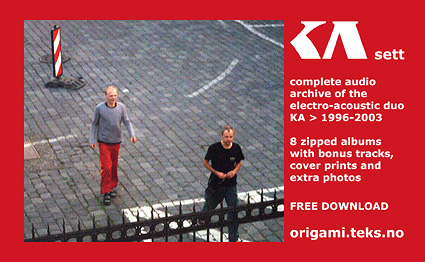 ---