origami republika > archive > surf all
folder: 3.0 PRODUCE > next folder
subfolder: 3.3 AUDIO ARCHIVE
---
3.3 origami TEKNIKA > next TEKNIKA
---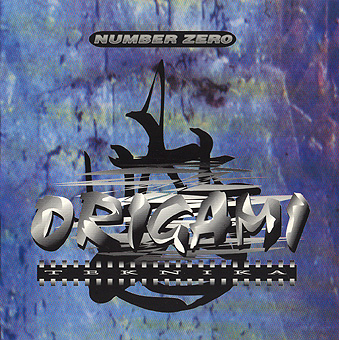 origami teknika - Number Zero - cd
ORkk085 > .zip
"A consciously connected collection of contemporary hip music pt 0". A "koffer ikkje?" dependent production.
01] Exit Into The World
02] So, What!?
03] Sunflower
04] Neksrot Es (Faster...Harder...More)
05] Enter...
06] Vedi (Time Lapse Version)
07] Mental Overdose
08] The Jungle Medics (No Cowardice Mix)
09] 20hz/20khz (Strype's Will)
details: Composed and performed by Cybepope "10.2" A02 and Crashman A22 @ Eldsfjord Gård, Mosjøen, Norway, 9401-02 in minus 22 degrees and aurora borealis. Recorded by Tor Tømmervik A06. 01] Feat. Simon Anderson A24, Nanaleth 23. 02] Vocals: Gen E Donate A25, Crashman A22 and all. Quotes from Harald Lange A27 and Jon Beng. 03] Feat. icon tape "origami arktika - organik eargasm" (ORkk081). Vocals: Gen E Donate A25. 05] Basic samples from Deathprod A04. Feat. Egil & Oddmund. Bass by Morten Pettersen A26. 07] Icon sample from Hybryds. 08] Based on material from by The Jungle Medics. 09] Executed by Audun Johan Strype A35. Guitars, bass, drums, trumpet, flutes, tubes, gongs, candlesticks, devices, vocals, tapes, samples, piano, sauna, tablas, voicetracer, systemcrash. Special thanks to Christian Nedregård, Gunnar Kuttner, Rita and Øystein Ylvisaker. Cover art by Pixeleyes. Inside booklet "sun" by Franchino, Rome, Italy
produce: CD listed as komkol 085, released by Metal Art Disco (Voices Of Wonder), Norway 1994.
---
top > next TEKNIKA > back to audio archive > next FOLDER