origami republika > archive > surf all
folder: 4.0 LIVE
subfolder: 4.3 STORIES
---
4.3 origami arktika > live stories > next arktika
---
KAnada Tour Report / 1999

The whole thing started with a majikal BANG; we though we´d only be in the States in transit, but it showed we had to get in, hey, Bjarne A16 and me having done time for being hardcore criminals and still there was no problem... We were a bit worried about how to get into Canada without the working permit the festival people told us we HAD TO have, no hassle, got through immigration without anyone demanding anything. Came to the Dakota Hotel, slept well. The next day we were drinking at the Country Pub down at Granville Street all day (except for Kai A80 and Kjell Ø A34 going for a long walk in the woods etc..). Met Kenny 'are you going goofy on me?'. Was picked up by Tippy Agogo, and spend the next few days at his place, meeting up with our manager-buddy Colonel Cameron A193 Noyes and others on Commercial Drive. The sun was shining, brains breathing.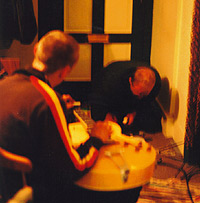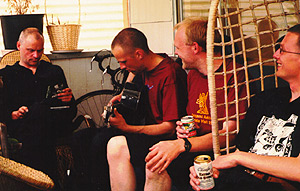 Origami Arktika @ Karen & John Deevious' House
Wednesday 14th - Recording session at John A191 Deevious and Karen A198´s. All night jamming and rehearsing before the breakfast-TV appearance. Hours worth of recording, some it quite good actually. John A191 sat in with his muted trumpet, Karen A198 with her mandolin, and some other guys dropped by as well. B.C. bud, chocolate cake and beer. Already feeling like home.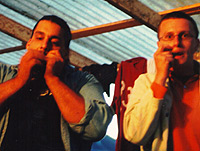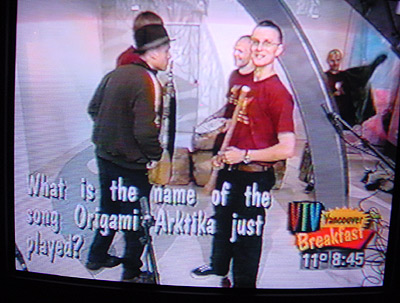 Thursday 15th - We were picked up by a taxi at 5.30 am, went directly to the TV studio for what we thought was a five minute piece. In the starklit studio we found out that we were to make small musical intermissions every half hour and then play our song, oh my god. But it worked, a video exists. We were all dressed in our custom-made KAnada Visit burgundy T-shirts, and must have looked like a bunch of fiddlers from hell, yet smiling. After that we headed for a park to sleep for some hours before going back to John A191 and Karen A198´s to watch their house (and sleep some more).

Friday 16th - The first day of the Vancouver Folk Music Festival. John A191´s friend Steve came around with videotaped evidence of us being mentioned on the local TV station as the Sunday headliners. Good laughs. Got to the hotel, had a shower and went for the festival site. What a perfectly beautiful place to arrange a festival, huge open fields beside the waterfront, shadowy sideparks, six stages from BIG to SMALL. No alcohol. Good food. Outdoor backstage. Children running around everywhere. Newly washed grown-up (ex-)hippies and folkies smiling and whatnot. A swim in the multicultural soup for sure.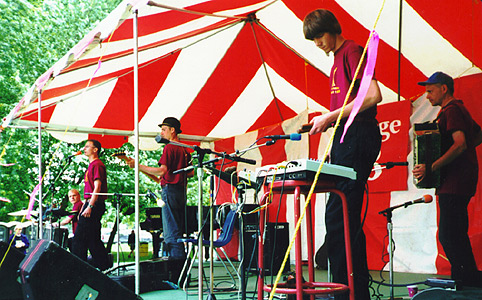 Saturday 17th - We opened the day with a workshop at 10 a.m. Even 30 minutes before, people were running from the entrance to set up their picnic stuff around on the site. The host at stage 3 was Wayquay, some plastique native woman backed by a mini-disc of horrible americanised playback, native or not, bad shit! Origami Arktika was guesting along with Persian string-player Amir Koushkani and his percussionist Andreas Kahre, as well as native-blues band Jerry Alfred & The Medicine Beat. Even though it could have been nice working with these emminent performers, the atmosphere was completely destroyed by the Wayquay minidisc crap. Then we hung out in the area the whole day, saw many fine bands and acts, met a lot of sweet interested/interesting people. We took a short d-tour to Commercial Drive at night, just to go back to the after-festival party, where we met some more of the good people.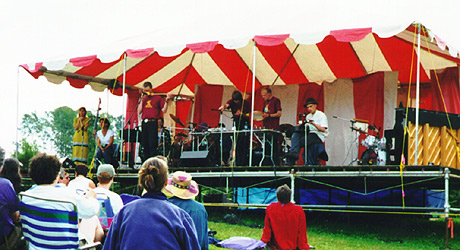 Sunday 18th - Another workshop at 10 a.m. This time hosted by Jennifer Paches (Jenn X), who we had some previous connection with through Cameron A193 (trying to book her a show here in Trondheim, but failed to, what a shame). Guesting along with Origami Arktika was Jami Sieber bringing the other musicians from new age mama deluxe Rhiannon's band Bowl Full Of Sound. What excellent percussionists! Jenn sang her weird little tunes, with her piano and her kid-drumkit, beautiful. Jami played her electric cello and was backed by the others. We played two of our 'songs', the audience were smiling and Rune A53 started breaking dead branches in the mike. 'This was Canadian wood - not Norwegian'. Audience laughing really enthusiastically. Jamie played some of her songs, and Jenn one more of her brilliant short songs this time based on 'a baroque pattern'. Then we all fell into a long jam, I jumped one of the drumkits, Bjarne A16 claimed the dub-bass and we had it going. The energy accumulated, people started laughing their heads off again when Rune A53 started duelling with Rhiannons healing storytelling or whatever, then suddenly Kai A80 and Kjell Ø A34 wanted to be in on the singing bit too, and I almost rolled down on the floor laughing. As the whole thing grew wilder, I knew we had charmed our way into the hearts of many a nice KAnadian. Rhiannon's comment 'You ARE odd people - we belong in the same tribe' made it all even funnier, unaware of how both Jenn X and us seemed to be jumping her ego (in fact, it was Jami who was supposed to be main guest). We have this recorded.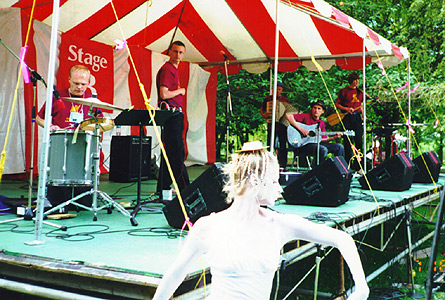 Then some two hours later it was turn for our concert, all five dressed up in our neat T-shirts. Just before the show some people from the butoh-group Kokoro Dancers came up and asked if it was ok with us that they made a little performance while we played. And origamists are known never to say no to such spontaneous collaboration, which should prove well-timed. Our concert didn´t work for us, but a lot of comments from the audience afterwards made me believe it couldn´t be as bad as we first thought. Well, whatever, we did our set, not easy having only five minutes to rig and check everything. The butoh dancers were just beautiful. At least we got a nice review from this concert in the Georgia Straight, the lower mainlands biggest art and entertainment magasine. After the concert we met Mark A199 Spybey of Dead Voices on Air and his friends, regretfully there had been some cock-up with the free tickets so Matt of Ichor Recordings couldn´t come see us, but his girlfriend Jenn A163 did, I later learned. Spent a lot of time talking to various members of the audience, who were asking all sorts of weird questions (and obviously received even weirder answers).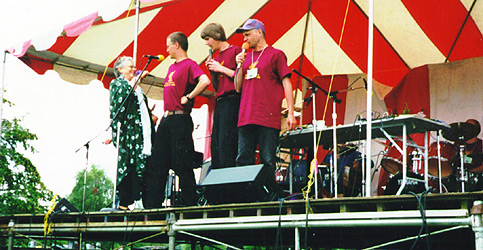 Then some more hours went and we were at it again, for our second workshop that day, again with the Jami/Rhiannon bunch and now also with the absolutely marvellous Chinese American piano player Lee Pui Ming and her percussionist Mark A199 Duggan. What could we do to top the one in the morning? No problem, the whole thing turned out even weirder and wilder than earier. We had a lot of fun, (again) partly because both Lee Pui Ming and us were attacking the ego of Rhiannon, in all sorts of friendly, funny and charming ways. Origami Arktika had gotten a request to play some Samish music, which we of course are not able to, but of course Mr. Kai A80 had a kind of tribute sample of Nils Aslak Valkeapää somewhere in the prerecordings, so even this we managed. It was quite loaded as I remember it. Then it all went to pieces in a turmoil of laughing, dancing and jumping around. I can see clearly from the photos Kjell Ø A34 took from the stage that the audience are having a really good time. The highlight was again brought by Rune A53, when he lifted his long horn and soap-bubbles came out of it. I lost it completely. Stage presence is his majik, that´s for sure. What good fun in the afternoon sun.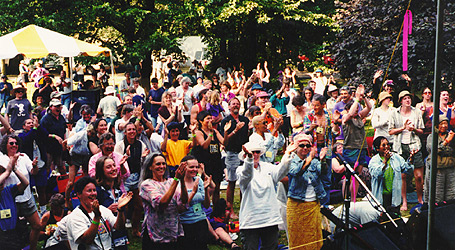 During the day several people came up to us asking if we were 'those Norwegians' and we indulged in all kinds of friendly and interesting conversations. This escalated, loads of people smiled and nodded towards us wherever we went. Some of the old hippi-women looked like they could take us home with them at the first given word, and I don´t mean for having sex. Had a good time talking to Norway-friend and Christian label-scam song-writer Tom Russell. Met an old Indian guy who shared my basic philosophy of first hand experience. The energy level being at it´s peak, Arktika with friends headed out of the area to find the nearest bar, had fun, went to the after-festival party where we hung out with a lot of nice folkies again into the night.
Monday 19th - Hanging around the hotel talking to really nice volunteers, so typical for origamists, knowing our place is always among the workers, not the 'stars'. Having coffees, smiles, some coughs, getting a hike back to Commercial Drive. Cameron A193, Bjarne A16 and I visited John A191 and Karen A198´s again. The others headed to Phil A190 Schulze's place were we should stay the whole last week. Good to have a base camp, and a back porch...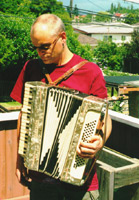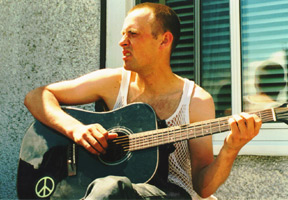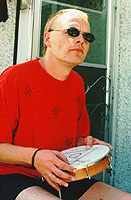 Kai A80, Bjarne A16 & Boe A22 @ Phil´s Back Porch
Tuesday 20th - Went to VASCO DA GAMA on Commercial Drive for an all-night party. We played a 12 minute set. The Reel Ones - another Norwegian band Cameron A193 had over for a huge tour - played a cool set of celtic-trashpop, Rob Paches played a couple of songs, John A191 and Karen A198 also. Even folk fest volunteer Tamara came around and played some. Guess we jammed a bit too at the end. We all got drunk out of our minds, smiling.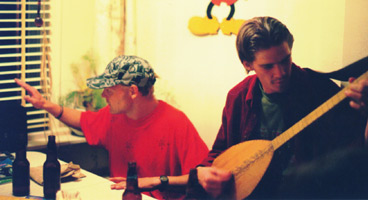 Boe A22 & Kjell Øyvind A34 @ Phil´s
Wednesday 21st - Concert at the DV8 on Davie street. We´d found this place by coincidence the week before as Rune A53 went in to exchange some money for the bus fare. He came out and said it was a cool place, so we decided to go for a beer (somehow that doesn´t surprise me, and is not majik per se). Yes, it was a nice place, so we started talking about sending Cameron A193 down to fix us up with a gig. We asked if they did concerts there, and England (good name for a beautiful girl, or what roone?) told us that wednesday night was for 'experimental' bands and performances. Rune A53 went to see who was going to play the next wednesday, in case we could do sneak in a support act or something. Of course the name on the list was 'Origami Arktika'. So our name was in print before we booked the gig (Cam had done it of course), another good sign... Well, the night came, some friends too, Kjell Ø A34 played one of his Medit techno-sets, good stuff and very suitable, we did a rather shitty Arktika gig but noone seemed to notice except us, then suddenly KA appeared with a 10 minute improvisation that was above average for our part. We got seriously drunk and high-spirited. Again. Recorded.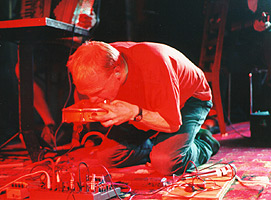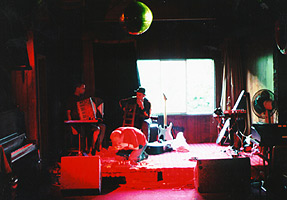 Origami Arktika live @ The Marine Club
Thursday 22nd - Sadly we had to send Rune A53 back home to attend a wedding, he was missed the last weekend. Evening-jam at Phil A190´s back porch resulting in some cool unplugged recordings. Concert at THE MARINE CLUB on Homer Street. Everybody had these strange smiles on their faces when we told them we should play at this place. Some told us it was a gay bar (not that we´d mind at all), others that it was a bar for old american drunkards being left behind when they closed the navy base in Vancouver or something. I was hoping it was both. It was some old drunkards there all night, and the main band were a fully lined-up SUMMER PARTY band, with guys like Steve and Greg that all looked as if they were summoned out of some american high school beach party movie. They had a lot of stash on stage, still we managed to play a 26 minute really really slow, mellow and chilly set of nordic ambient. Haha. After we got all drunk again and ended up dancing and jumping with the somewhat older and in number limited audience when the party band played. Leader Greg was on stage taking it all down with some slower songs alone, so I 2re (or_/uansett/2re) just HAD to bring my hand drum and back him up. There´s a photo of the two of us, he looks really afraid, like he thinks 'when is he going to burst out into some weird art shit?' which I didn´t. Respect the house. Nice bunch. Kai A80 had a great time acting totally professional when the booking guy came to share the some 40 bucks between the bands. Hey! The only people we knew there was Phil A190 and his friend Willie, Matt of Ichor and Jenn A163 coming in late for the show. Recorded. Late night jamming at Phil A190´s where Willie Krüger did some cool improvised songs for us.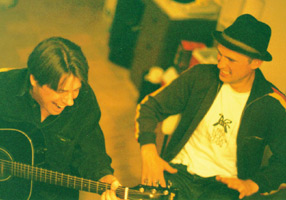 Willi Krüger & Bjarne A16 @ Phil´s
Friday 23rd - Recording session with Mark A199 Spybey/dead voices on air at MILLER BLOCK STUDIO. I was looking forward to finally meet up with Mark A199 a place where there were mikes. The downtown studio had a good atmosphere and engineer Darryl Neudorf was in control. We jammed and joked a bit, some stretches of interesting sounds appeared I think. After some time we all fell into a weird sort of dub-thingy (!) with Bjarne A16 adding bass and Kjell Ø A34 guitar. I have no clue as to how this will end up, Phil A190 and Jenn A163 guested briefly and we recorded a lot. We decided to finish the next day.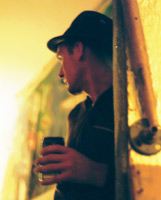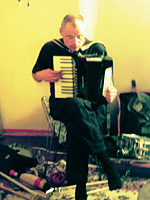 Bjarne A16 & Kai A80 in Miller Block Studio
Saturday 24th - We had a good lunch at Matt and Jenn A163´s before going back to Miller Block Studio for a few hours. It ended up with 2 x 40 minutes alltogether, Darryl and Mark A199 will hopefully make a mix at that end, and then we´ll get down to make one over here. I´m excited to hear both. Then we headed on to do a short appearance at THE BLUNT BROTHERS, since The Deevious Family Jambouree was playing there that night. We did a 5 minute all unplugged set with two accordeons, saz and guitar. Then we had to leave for our own gig at the CAFÉ DEUX SOLEILS up on Commercial Drive. We had planned to make that a full-nighter, since it was the last one and people even coming all the way from Seattle to see us. We should do a short little thing to kick it off, then Anselmo (who played Norway years back) should pull some of his good songs, then we should go back on and do the full ambient-dub workover. The first two went well, with Bjarne A16 and Kai A80 jamming a bit, then Kjell Ø A34 doing some more Medit stuff and 2re (or_/uansett/2re) joined in scrathcing a contact-miked record). When we were heading back on we were told it was too late, that there had been some misunderstanding and whatnot. Colonel Cameron A193 ended up in a frenzy with the organiser, almost getting into physical trouble as he fucked up and stole a mike and shit. Big argument, so we put our gear together and left for the Vasco Da Gama safespot across the street, having some more beers and conversation. The Seattle audience got to see us play for 9 minutes. Hey, rock´n´roll! Not everybody was into this, but I couldn´t help myself from thinking it was a pretty cool traditional way of ending of a tour. Haha. Later that night we went to a party at the house of Anselmo´s girlfriend, and for my part it went on and on until Sunday at around 6 pm, getting the guided d-tour of Queenie Park and whatnot.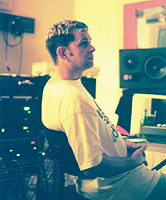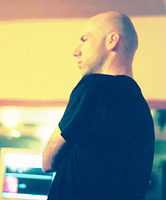 Mark Spybey & Darryl Neudorf in Miller Block Studio
Great city. Great people. Thanks. Back in Oslo, after saying goodbye to the others and having Kai A80 serving me a cool breakfast I headed out in the sun to wait for my plane. Plane for Trondheim leaving at gate 23.
And, oh yes, I did grab hold of the Nitty Gritty Dirt Band cassette where they sing 'Let The Circle Be Unbroken'.......

- Boe A22
---
Cuts from many of these happenings can be found on Frank Robert A124's bootleg cdr or_/ar tika: Pjoltergeist
---