origami republika > archive > surf all
folder: 4.0 LIVE
subfolder: 4.2 KLUBB KANIN > surf klubb kanin
---
4.2 origami republika's club concept > KLUBB KANIN > next KLUBB KANIN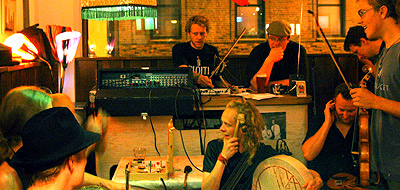 "where debutants, dilletants, dolphins & dinosaurs dance together..."
"ØVE PÅ SCENEN KAN MAN BARE TILLATE SEG OVERFOR ET ØVET PUBLIKUM"
"In my native language "Klubb Kanin" means "The Bunny Club". This refers to the length of the rabbit´s ear.
It´s a club for people with curious ears." - A169
---
First event, 1997 >

Kapotte Muziek Klubb Kanin, UFFA, Trondheim. This was the first of the Origami Republika organised Klubb Kanin "open stage" events, and even the reason we started it. In 2011 the Klubb Kanin still goes strong, with a "third generation" origamists organising it several times a year in Trondheim and also in Oslo. This Kapotte Muziek concert was "released" as a double-cassette in around 10 copies as a memento for local friends, together with the two other acts that night; an Origami Republika performance with soundtrack by KA and the set that Rishaug Marhaug did (yes, that's Alexander and Lasse respectively). The double-cassette came in a cover made by cutting up/out the poster, and was listed in the KomKol Autoprod archive. Download the Kapotte Muziek concert from their online archive.
We served an excellent trout (ørret) to Kapotte Muziek after their soundcheck. It seemed they liked it, as it was scraped to the bone. After they left, we found a note beside the bone, saying: "Composition For Ørret - eat the ørret. Cleanse the bone and record a 28 minute 30 second composition playing on it." Not surprisingly this item is one of our dearest potentialist archive possessions.
---